THE EVENT
Who: Brisbane Client
Event: Treasury Ladies Oaks Day
Location: The Grove Marquee – Brisbane Racing Club Doomben
Date: Saturday, 26 May 2018
Event hire: Furniture hire, styling and project management
THE BRIEF
Neals Event Hire was engaged by the client to furnish, style, and coordinate a private event at The Grove Marquee at the Treasury Ladies Oaks Day. Having worked with the client for many years, expectations were crystal clear – quality fit out, beautifully styled and execution without a hitch. Just a standard day at the office for the Neals team.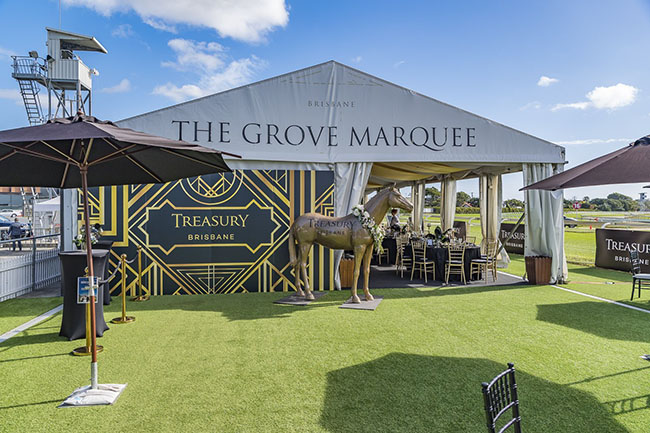 THE LOOK
Host to a bunch of VIPs and invite-only guests, the marquee was styled to make the most of its permanent features, including a set of dimly lit black cast-iron lights. Taking them from hindrance to highlight, Neals' stylist transformed the marquee into the grandiose of The Great Gatsby era, which complemented the overall event theme of "Make New Memories". Black panne velvet tablecloths, gold candle holders, floral centrepieces spilling 'black' hued disbuds and feathers, diamantes and gold furnishings were all used to create a moody and decadent setting fit for a day of indulgence at the race track.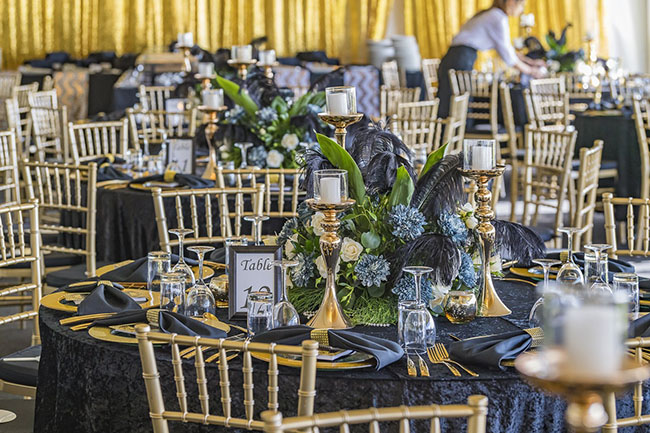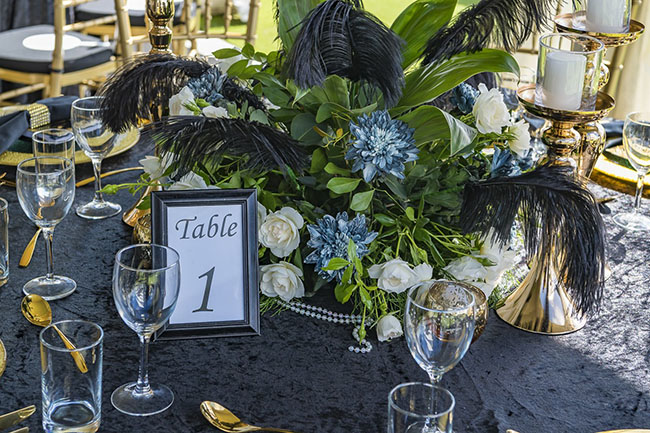 THE FURNITURE AND PRODUCTION
From the gold Tiffany chairs and cutlery to the champagne satin ceiling fabric swagging, the team supplied and managed all furnishings needed to bring the tent on point. Organising every aspect on behalf of the client meant coordinating suppliers and juggling individual stakeholder needs, such as the marketing and events teams, and the demands of the venue itself. Signage and other site activations were also required as well as a last-minute custom designed and constructed media wall. No mean feat but the Neals team rose to the occasion and delivered in the nick of time!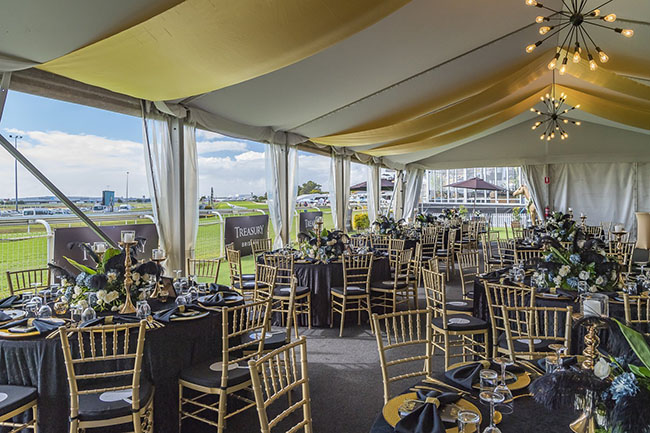 Like what you see? Check out more of our furniture range here.
THE AFTER PARTY
Another spectacular event by Neals Event Hire on behalf of the client – on time and to budget. But don't just take our word for it…
"Oaks Day is one of the premier dates in our Event Calendar and Kate and the Neals Hire team never fail to disappoint. Their ability to transform blank canvasses into breathtaking event destinations is a pleasure to watch. They are client focused and always strive to get to yes, no matter what demands are thrown their way. I say this honestly as I have extremely high standards and expectations and Kate and her team continue to deliver. The team always go above and beyond to deliver thrilling experiences for our guests and work well under pressure. Kate's vision, design talent, organisational skills and time management, coupled with a great team to support this, always ensures the delivery of exceptional Events." – Brisbane Client
Planning an event and looking to hire a marquee, furniture or anything else for that matter (even the kitchen sink)? We've got you covered. Contact us today.